Beautiful and Functional –
Best of Both Worlds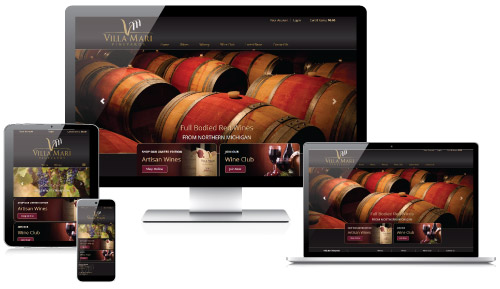 Branding is a crucial element for wineries as a winery may have multiple brands under one roof. A website works in the same way as it must also represent the different brands of a winery while keeping true to the brand of the winery itself. This is where a winery eCommerce website must be very attractive while promoting eCommerce growth through seamless service integration.
We build winery ecommerce websites using specialized Content Management Systems (CMS) which are focused entirely on wineries. Whether you want a simple website or an integration platform with Point of Sale (POS) for your tasting room and an easy tool to export your data to Quickbooks while tracking all your compliance through ShipCompliant, we can handle it.
Learn about how we can simplify and grow your winery.
Call 231-715-1511 and grow your winery today!.
We know how wineries run and how important brand and wine club growth is to your success. We can give you all the tools to reduce the workload on your employees by making your website a part of your winery.
Our winery eCommerce integration features include:
Wine Club Management
Point of Sale (POS)
State Licensing
Compliance Tracking
State Tax Auto-Pay
Promotions
Wine Club Newsletters
TTB Tracking
Winery eCommerce
Age Verification